There are a few things that I did not get to try this time around:
Adding a bitmap (for example, a logo) to the board's layout. I believe you create it as a custom part and use it from your library? Or you somehow download an image.
Similarly, it would be useful to make bitmaps for parts like diodes to help orient them as a guide when soldering.
How do you remove Eagle layers like Cream, Glue, etc. which are populated? There are also many other tricks to learn with Eagle.

If a project is large enough, one could add a board ID that is readable by the software. That could be done by GPIO pins connected to, or "fused", to certain voltage levels creating a short ID. This may be overkill for simple boards, but still, it is a known industry practice.
A GPIO line could also be connected to a reset circuitry so the MCU could hard-reset itself in software if needed.
It is useful to have an onboard power switch. I did not add one to this board and I am missing it; plugging and unplugging the power connector causes a momentary bounce where the LCD flickers. I don't know if that's harmful or not, but it does not look good when it's flashing/blinking for a moment.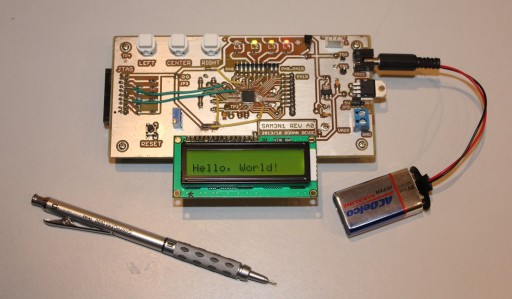 There you go.
I will try to improve articles if I find better ways of doing it. Thanks for reading!