This step is optional, and many people skip it. Copper will oxidize over time, and this simple step will protect it. I've found several methods to be reasonable but I always use the liquid tin to start.

Liquid tin can be reused and a small bottle will last you a long time. Make sure the liquid does not get dirty as you pour it out and back into the bottle. Find a very clean plastic container that is just a bit larger than your board and fill it with tin; not too much but enough for your board to rock through it. Use nitrile gloves and do it outside or in a well-ventilated area.
First clean the board with acetone or alcohol, wiping it with paper towels. Acetone works better; it is stronger than the alcohol (however, I only had 91% alcohol, perhaps a stronger one works better?) Acetone will slightly corrode the copper and hence a slight green/blue tint on the wipes. It will instantly clean the photoresist. After cleaning wash the board in the water and dry it with a paper towel.
Dump the board into a tray with liquid tin and start rocking it from side to side. Within a minute copper will be covered with tin. Keep doing it for about a minute as the tin is chemically bonding and building a layer over copper. Rinse with clean water and dry it with a towel.
Pour the unused liquid tin back into its container to be reused.
You can repeat tinning if you see any parts of the board getting darker (oxidizing). I have repeated it after a drilling stage due to one corner somehow getting oxidized (tin will also oxidize, but it will take much longer). Perhaps I did not bathe it in liquid tin long enough the first time around and the tin layer was too thin. In fact, it looked a bit blotchy after the first tinning as you can see in the picture below. I believe that was caused by not properly drying the board after washing it with acetone.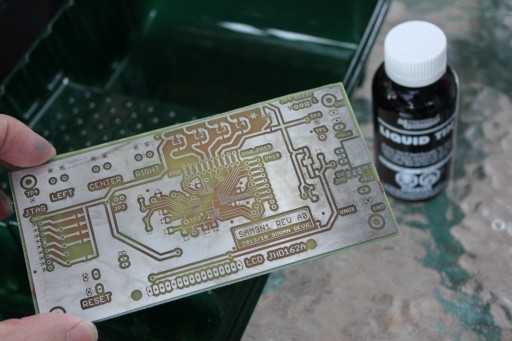 There are other ways to protect your board. Some people are using colored enamel like a green lacquer. This looks great, but it takes a long time to cure (up to 48hrs).
Using the enamel does not necessarily preclude tinning your board. You could tin it and then use the enamel for a nicer look. Apparently, these "Testors" enamel sprays can be soldered through. I did not try them, though.
https://www.amazon.com/Orange-Spray-Testors-Enamel-Plastic/dp/B0038352NG
Tools: Cleaning (acetone or alcohol), paper towels, liquid tin, nitrile gloves, plastic container, water